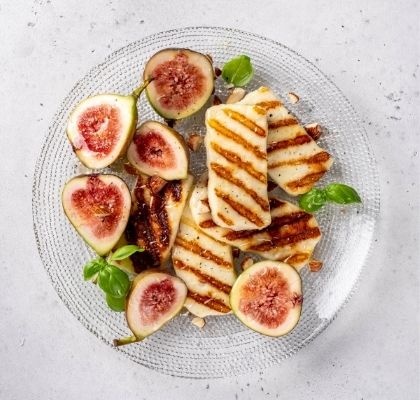 Ingredients and Main Characteristics
Halloumi is produced and offered both as Fresh Halloumi (the most popular and known type) and Mature Halloumi.
Fresh Halloumi is a semi – hard and elastic type of cheese with a white (up to lightly yellow) colour and a folded, rectangular or semi-circular shape. It has pleasant and characteristic smell and a firm and sliceable consistency.
Mature Halloumi is a semi – hard to hard cheese and is less elastic than fresh Halloumi. It has a more spicy and salty taste than fresh Halloumi with a mild bitterness.
The raw materials for the production of both fresh and mature Halloumi are fresh sheep or goat's milk or a mixture thereof, with or without cow's milk, rennet, fresh or dried mint leaves and salt. Sheep or goat's milk or a mixture thereof must always be quantitatively superior to cow's milk, when it is used together.
Maximum moisture content:52% for fresh halloumi and 37% for mature
Minimum percentage of fat: 43% for fresh halloumi and 40% for mature (in dry matter)
Maximum percentage of salt: 3% for fresh halloumi and 6% for mature
The weight of Halloumi pieces ranges from 150-1200 grams. Halloumi is usually marketed in vacuum packed pieces of 230-280 grams. It may also be left to mature in brine and can be found in the market in plastic food grade containers.
The manufacturing method of Halloumi is regulated by the national compulsory Cyprus Standards CYS94: Part 1: 1985 Specification for the fresh halloumi and CYS94: Part 2: 1985 Specification for the mature halloumi as well as the specifications of the EU Protected Designation of Origin (PDO) 'Χαλλούμι (Halloumi) / Hellim'.
Halloumi is high in protein and calcium, both of which promote bone health. 1-ounce (28-gram) serving of halloumi contains the following:
Calories: 110
Carbs: 0 grams
Protein: 7 grams
Fat: 9 grams
Calcium: 25% of the Daily Value (DV)
Sodium: 15% of the DV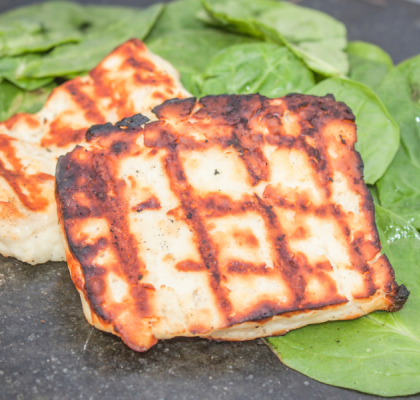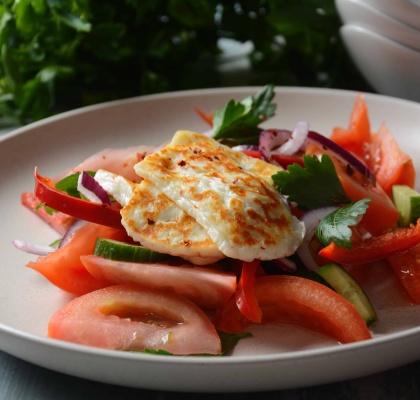 Food Pairing & Combinations
The versatility of Halloumi allows for its presence in a broad range of dishes. The special characteristic of Halloumi cheese that distinguishes it from all other cheeses, is its ability not to melt or spread in high temperatures. Its manifold serving possibilities render halloumi unique: fresh, fried, baked or grilled, it is a sheer delight throughout the year.
Fresh Halloumi may be consumed with fruit such as melons and grapes, in salads or sandwiches, grated over pasta dishes or as a stuffing in ravioli and cheese puffs or vegetables such as aubergines and red peppers. Mature Halloumi can also be grated over pasta.
Grilled Halloumi is worthy of being the centrepiece in a dish – it is delicious served hot, drizzled with olive oil or cut into cubes and added to a kebab with thick chunks of tomato and onion.
Its slightly rubbery texture means that it can also be fried without the need of oil or butter – it is ready to serve when it colours around the edges. Chunks of fried Halloumi can be placed on a bed of crisp green salad, drizzled with olive oil and sprinkled with shredded mint.
Halloumi in burgers has also become a very popular barbecue idea, especially in the summer months. They can be served as a vegetarian dish or combined with a choice of meat.
Whichever the method of cooking, Halloumi can be a great accompaniment to many dishes and can also be included in different types of cuisines from around the world. Halloumi can become the main ingredient in vegetarian dishes and a great substitute for meat.