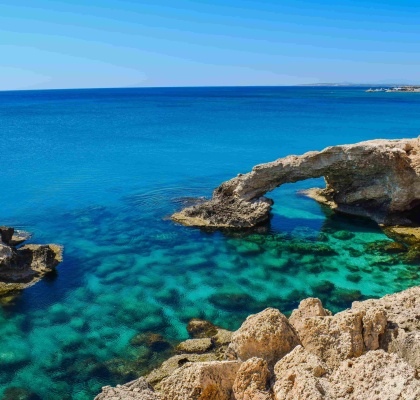 Situated at the north-eastern end of the Mediterranean basin, Cyprus is the third largest island in the region. The country has a captivating climate and lifestyle, with year-round sunshine, unique natural landscapes, a rich and diverse culture and history, enabling a wealth of style choices for every aspiration and taste.
Cyprus's long history and a rich culture that spans 11.000 years, makes it one of the oldest civilisations in the Mediterranean - as evidenced by the many fascinating cultural sights, museums, monuments and galleries. Located at the crossroads of three continents - Europe, Asia and Africa - the island's unique geographic position has played an important part in its turbulent past since antiquity. Its Prehistoric Age inhabitants were joined 3,500 years ago by the Mycenaean Greeks, who introduced and established their civilisation, thus permanently instilling the island's Greek roots. Many other cultures followed thereafter, leaving behind visible remnants of their passage, and have thus created a mosaic of different cultures and periods. As such, the island is an open-air museum of prehistoric settlements, classical Greek temples, Roman theatres and villas, Early Christian basilicas, Byzantine churches and monasteries, Crusader castles, Gothic cathedrals, Venetian fortifications, Moslem mosques, and British colonial-style buildings.
Known for its lively resorts and sandy beaches, Cyprus is one of the most popular tourist destinations in the region. Whether you prefer to be lounging on hot sands, riding the waves, or taking in the views from a porthole, Cyprus is the perfect destination for all the very best of sun and sea. For the more daring visitor, the island's ideal wind and water conditions open up endless possibilities for exhilarating sports such as windsurfing, sailing and kitesurfing, whilst beneath the foam, a whole new underwater world invites you into to discover a diver's paradise of world-ranking wrecks and diverse marine life.
Due to its location, Cyprus has grown into a major hub for financial services, shipping and technology, as well as a top destination for venture capital. Cyprus has evolved into a modern, cosmopolitan, transparent business centre offering opportunities for investment across a wide range of sectors such as hospitality & tourism, healthcare, education, renewable energy, while the country also provides incentives and policies that attract businesses and investors to choose Cyprus as their preferred place to do business.
The country enjoys a robust and transparent legal system, an attractive tax regime, as well as offers companies easy access to a highly qualified and multilingual talent pool. As a European Union Member State, Cyprus benefits from the harmonization of EU financial services regulations, offering high quality cost-effective solutions to the financial services industry.
For further information please consult the following websites:
- Deputy Ministry of Tourism of the Republic of Cyprus: www.visitcyprus.com
- Cyprus Investment Promotion Agency: www.investcyprus.org.cy
- Ministry of Foreign Affairs of the Republic of Cyprus: www.mfa.gov.cy
- Cyprus Press and Information Office: www.pio.gov.cy